Families for Clean Air Launches Air Monitoring Network Focused on Wood Smoke Pollution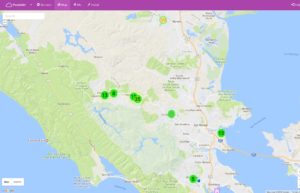 It has been well documented that wood burning devices create localized air pollution hot spots—but these neighborhood hot spots are often located far from official government air quality monitoring stations.
The result? A large number of households may be breathing highly polluted air, even when the established monitoring networks are showing the air quality to be good.
In an effort to address this discrepancy, Families for Clean Air has recently launched an air monitoring network in the San Francisco Bay Area.
The network utilizes PurpleAir PA-II air monitors to analyze the air quality of neighborhoods where there are currently no EPA or local air district monitors. The PA-II contains a sensor that uses a dual laser beam to count particles based on their reflectivity and provides real-time information about PM1.0, PM2.5, and PM10. This information can then be viewed on a map online–you can see air quality data at your home in real time, as well as information from other PA-II sensors.
Sound complicated? It isn't. You simply attach the PA-II (about $250) to the outside of a structure, plug it into a power source, and connect it to your home's Wi-Fi network. Readings are uploaded to the cloud every 80 seconds or so, where they are stored for download and displayed on the PurpleAir map.
Families for Clean Air is currently looking for more people in the San Francisco Bay Area to join this network, and will even help subsidize the cost of the PurpleAir monitors for qualified individuals. Please contact us to learn more.